All Stressless Recliners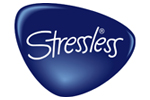 ALL Stressless Recliners are on sale now! Stressless products are 'bumped up' 1 upholstery grade at no cost--sale prices have all been automatically adjusted throughout the site.
Stressless Recliners, crafted in Norway, present the ultimate comfort solution for any body. Sink in, but remain supported. Fall asleep. Or read. Or watch. Anything in a Stressless feels better. Perfect head and back support is supplied by Stressless' Plus System™; while lounging bliss is delivered via perforated and infused Comfort Zone™ foam. Available in an incredible array of styles and sizes, all with your choice of 100% top-grain leather or other durable upholstery.