All Stressless Recliners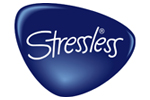 Stressless Recliners, crafted in Norway, present the ultimate comfort solution for any body. Sink in, but remain supported. Fall asleep. Or read. Or watch. Anything in a Stressless feels better. Perfect head and back support is supplied by Stressless' Plus System™; while lounging bliss is delivered via perforated and infused Comfort Zone™ foam. Available in an incredible array of styles and sizes, all with your choice of 100% top-grain leather or other durable upholstery.
SALE: All WING models are on sale for $600 off in any of the best-selling Paloma leathers.