Stressless Reclining Chairs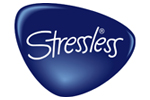 ALL Stressless Recliners now $150 - $350 off! Prices marked down across the site!
Stressless Recliners offer unmatched comfort and full body support. Endorsed by the American Chiropractic Association, each recliner includes Stressless' patented Plus System™, which ensures supportive head and back support in any of the possible reclining position. Find all the available Stressless Recliners available below. Each model is available in a terrific number of 100% top-grain leathers and designer fabrics.