Testimonials
I love my reclining leather loveseat. I got a Flexsteel with the console in the middle. Only problem is my husband and his friends are constantly watching sports on our loveseat. Still, it is pretty, plush and we simply adore it. We couldn't have asked for more!
The Bay Area!
White-Glove Home Delivery
Home Delivery to all 50 States and beyond!
The last contact you have with our company prior to enjoying your furniture will be with our delivery teams. We understand the importance of this contact, and are proud to offer the best delivery service in the industry. As the furniture is en route to your city, we will call in order to schedule a convenient day and time for delivery. Estimated lead-times are noted on every product page.
Free Indoor Delivery--Bronze
We offer home delivery for most items absolutely free of charge. At the scheduled time of delivery, we will come to your home and bring your furniture inside. Please note that the item will be left in the original packaging and delivered to the first dry area. If you live an apartment above the first floor, Platinum Delivery is suggested but not required. Also, please note that the charge for a Quick-Ship delivery is $75.
$100 White-Glove Delivery--Platinum
At the scheduled time of delivery, we will bring your furniture inside, place it in the room of your choice, unwrap the packaging and take all the debris with us when we leave. This is all included, in addition to shipping, for $100. This offer also covers one or more items--so whether you buy one sofa or five, you will not be charged more than $100. Please note there are a few exclusions to this offer.
Tables do not include White-Glove delivery. Tables will be delivered to your door.
Alaska and Hawaii
AK
: As we are based in Seattle, WA, we are very close to the Port of Seattle--flush with ships headed to Alaska. We offer FREE delivery of your purchase to any barge or shipping company you have a working relationship with If you do not have a preference of shipper, we are happy to coordinate the trip to Alaska, at wholesale cost, on a case-by-case basis. Delivery to anywhere outside the Port of Seattle may incur an additional cost.
HI
: We are pleased to offer home delivery throughout the Hawaiian Islands for only $499. This is CURBSIDE delivery and does NOT include placement inside your home. We do not offer inside delivery in the Islands.
For certain remote areas there may be a beyond delivery surcharge. This will be clearly noted at your basket page, before any payment info is required.
Please note that Ottoman pieces, when purchased alone, do carry a $100 delivery charge. This may be in addition to any Quick-Ship or Platinum delivery options selected. If an Ottoman is purchased along with another furniture item, then the $100 fee is entirely waived.
Our furniture is sold across the world. Please call
(888) 770-7632
or
email
for a quote.
Up to 2 flights of stairs are included with delivery. Additional flights may incur an additional charge. Disassembly is not included. All deliveries include 15 minutes of light assembly for legs. Please note that if your building requires a Certificate of Insurance, there may be an additional charge in order to complete the delivery. For any additional questions, please call
(888) 770-7632
or
Contact Us
for a quote.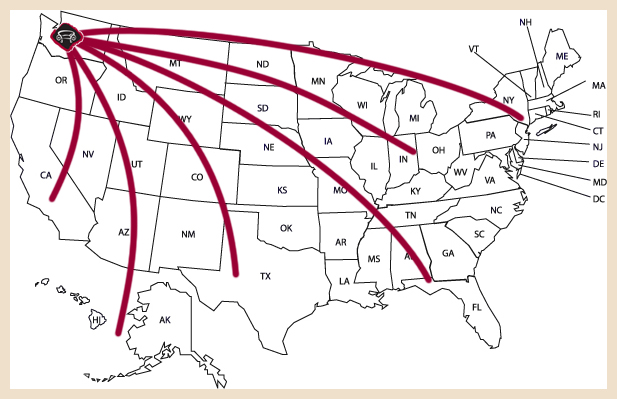 We deliver anywhere in the United States!