Deciding Between Fabric or Leather for Your New Furniture
Fabric or Leather for Your New Furniture?
Why Fabric?
Benefits
Even designer fabrics tend to be between 25% – 60% less expensive than top-grain leather options.
There are countless options in terms of colors and types of fabrics.  There are an abundance of patterns and materials from which to choose.
Fabric pieces often provide a cozier atmosphere, and tend to make a room look very inviting.
Fabric is usually softer than leather, and often people prefer to sit on this texture.   If you decide to go with a fabric-upholstered piece, the next step will be to select the perfect upholstery to match your style and space!
Which Fabrics?
Common Fabric Types
Microsuede or "microfiber" is a synthetic fabric that is made from tightly compacted and thin polyester fibers.  This fabric is great if you own pets or have kids, since microsuede is exceptionally stain resistant and very difficult to pierce.  Microfibers also tend to be very soft and comfortable to relax on.
In French, "Chenille" means caterpillar.  Chenille fabrics got their name due to their particularly soft and plush texture.  This fabric is great if you want a fuzzy and cozy piece.  However it is not as tightly compressed as microsuede, and thus scores slightly lower marks in terms of durability.
These fabrics have a wide range of textures and are made of a variety of materials.  Woven fabrics generally aren't quite as soft as a microsuede or chenille, but are rather more canvas like.  Woven fabrics can be smooth or rough depending on how tight the weave is.  The more tightly woven a fabric is, the more durable and easy a piece is to clean.  Common materials used in this fabric are: polyester, cotton, polypropylene, olefin, polyurethane, linen, and nylon.
Polyester is man-made, fade resistant, and durable.  It looks similar to cotton and is soft.  It is often blended with other fabrics.
Olefin/Polypropylene is man-made and very durable yet lightweight.  It is stain resistant and has great color retention.
Polyurethane is man-made and very durable and flexible.  It has great stain resistance.
Nylon is man-made and is one of the most durable fabrics.  It is lightweight and easy to wash.
Cotton is a strong natural fabric.  It is soft, very comfortable, and breathable.  It is a somewhat stain resistant.
Linen is natural.  It is very strong and does not pill.  It doesn't collect dust and is fairly easy to clean.
To further explore these leathers and fabrics, visit our Design Center, located in the majority of the product pages. Click "Start Customizing" to begin designing!  
Why Leather?
Benefits
While it's true that beauty lies in the eye of the beholder, leather truly provides a rich and unique look in leather that simply cannot be duplicated.
Scratches and scrapes are no match for top-grain leather.  Why do you think bikers wear leather jackets?
Leather furniture will last decades.  People often look to speed up their piece's aging process just to get that amazing aged-leather look and feel.
Compared to fabric pieces, leather pieces are easier to clean and do not need to be cleaned nearly as often.
Leather does not trap dust, pet fur, or other common allergens.  This a great choice for those with allergies, as allergens can often get caught in fabric furniture.
Which Leather?
Do you go for the 100% Top Grain, the Bonded, the Full Grain, or the Performance Leather?  Aren't they all the same?  Leather is leather, right?  Actually no, not at all! The biggest difference is that Bonded Leather and Performance leather aren't really leather.    That's why Savvy Home only carries 100% real leather, and not Bonded product.  Read on:
Top Grain Leather is entirely made of the top-most layer of a hide, which is both softest and strongest portion.  Top Grains are often corrected to create a more uniform look on the leather.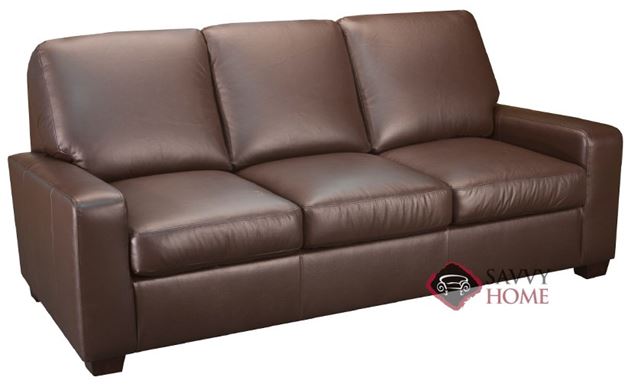 Full Grain is a sub-section of Top Grain, where no blemishes or imperfections are corrected.  This leather has a slightly more unfinished look, but as a result, each piece looks extremely unique from one another.
Bonded/Performance Leather
Bonded Leather is generally made of up of 50% plastics, and 50% blended leather hide scraps.  Bonded options are often cheaper than Top Grain, but unfortunately do not possess the qualities of leather that people pay for in a genuine piece, including unmatched durability and aging.  In fact, Bonded Leather may begin to peel off of a piece's surface after a few months or years, which does not happen with Top Grain leather.  
     Tips and Tricks
Make sure that the piece you purchase is composed completely of leather.  If a piece is made with leather, then it could be as low as 2% real leather.
Strange markings on genuine leather aren't imperfections.  They are the natural markings that guarantee your piece is made of the utmost quality.  They might be bite marks or scratches that were previously on the cow hide.
"100% Genuine Bonded Leather"  is not real leather.  Unfortunately, this claim can be rather misleading if one is not aware of the nature of top-grain leather.
At Savvy Home, all of our leather furniture is 100% real, genuine leather.